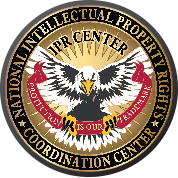 National Intellectual Property Rights Coordination Center
RECENT NEWS
2019/01/31 18:08:00 UTC
ATLANTA, GEORGIA – United States Attorney William M. McSwain announced six separate indictments charging 13 individuals with a multitude of crimes, including conspiracy to traffic in counterfeit goods, trafficking in counterfeit goods, conspiracy to commit wire fraud, wire fraud, and aiding and abetting.
2019/01/31 17:19:00 UTC
ATLANTA – U.S. Immigration and Customs Enforcement (ICE) announced today that collaborative enforcement efforts led by its Homeland Security Investigations (HSI) component and U.S. Customs and Border Protection (CBP) resulted in the seizure of nearly 285,000 counterfeit sports-related items worth an estimated $24.2 million, and related investigations led to 28 arrests with 21 convictions.
FEATURED VIDEO
Quick Links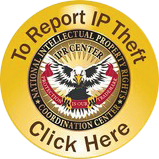 Report IP Theft
To report violations of intellectual property rights, including counterfeiting Report IP Theft and piracy, to the National IPR Coordination Center, click here.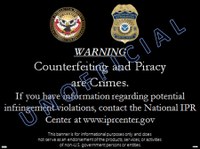 Civil Anti-Counterfeiting and Piracy Banner
For more information or to request permission to use and place the official seizure banner on your website, please click here.